How amazing to have other bloggers and creative artists reach out to be a part of Share a Site Friday!  I have visited all of your sites and am blown away with the talent out there!  Thank you so much for sending me your links.  I loved browsing through them and getting to know you all through your stories and posts.
A great way to get your vision out there is by entering your work on different link parties.  I do it all the time.  It's a lot of fun to win, too!  However, this is not a competition.  This is solely another venue to share our talents with other bloggers and readers.
Every week, I'll share two sites in the order of their original email or comment requesting a share, along with one site I really want to add.  If you emailed last week and are not featured today, you are in line for next week.  Really, thanks again for your emails and comments and please keep them coming!  I seriously love them.
Here goes Share a Site Friday, Week 2.  Wowza, folks – you really are a talented group of paintaholics!

What can I add to Reeve's from The Weathered Door?  I mean, her pictures say it all.  Can you say, talent?  She has a knack for picking the perfect color combo for any piece.  I also love that she works on many different styles and eras of furniture.  This is not your standard "shabby chic" gal!  Not only are her pieces perfection, but her photography skills are out of this world.  Just look at this amazing mid-century modern piece…
and what about this blue stunner?
Oh, and Reeves is only 19 years old, peeps.  Yes…19!!!
Now on to Diane from The Paint Factory.  Her talent with a paint brush and her amazing sense of humor make for a really fun read!  Diane doesn't have a website but you can find her work on Facebook at The Paint Factory and give her a big "Like".  Her technique creates real one of a kind, unique pieces for any home.  Just check these out: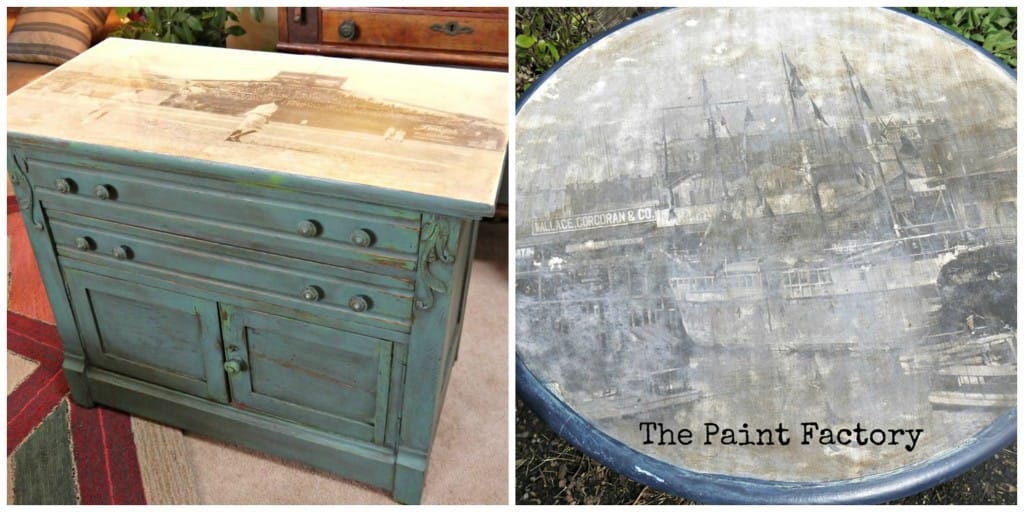 I also am in LOVE with this piece from Diane's Etsy shop.  So jealous of that find!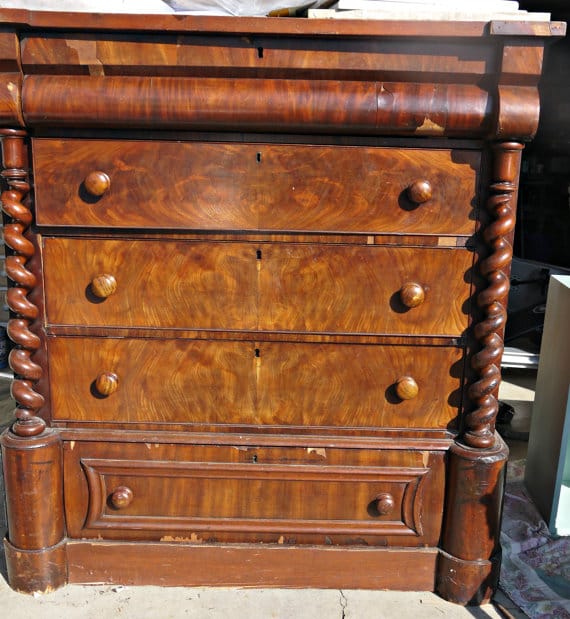 Need I say more?  The girl is a ton of fun and well worth a visit!
Now on to my personal share of the day.  I have been following Denise from Salvaged Inspirations for over a year.  She is absolutely amazing.  Her pieces are always full of interest and she is never, ever boring (a problem that is easy to fall into when one sticks with a certain style/paint/color scheme).  She changes it up with each project and is full of tips and tricks that she readily shares with her readers.  Do you need to know how to remove veneer or have you thought of spray painting milk paint?  She's your go-to girl!
Check out her curbside find (some people have all the luck!)…
What a transformation!  And this little desk and chair in red are to die for…
Oh, and did I mention that Denise is gorgeous?  Check her out at Salvaged Inspirations for more tips, tricks and amazing reveals!
I hope you enjoyed this week's shares.  Please, please, keep them coming!  Shoot me an email at [email protected] or comment below and your page will be featured.  Have a great weekend, everyone!
Join the Fun! I Always Love More Subscribers!
x