Happy Friday, everyone!
I thought to end the week with a Questions and Answers post. I love to hear from my readers. Some are experts with their own creative businesses while many are home DIYers who are venturing out and giving Annie Sloan chalk paint a try.
---
"My friend has a question… I am painting an old table and chair with chalk paint and wanted to know if you knew of anything I could seal it with that would not take away the look of the paint?"  Angie's Designs
I only use Annie Sloan Chalk Paint waxes on my pieces to seal. The wax gives a soft finish and protects the piece from water stains, etc. However, you can add a poly on top of chalk paint for extra protection. My look is "faded farmhouse charm" and I avoid the shiny look on my pieces.
"What do you use to strip the old paint? You do beautiful work!"  Brenda
No need to strip off the old paint when using AS Chalk Paint. In fact, I happen to love the look of the old paint peeking through. If you are planning on distressing, keep the original paint color in mind when choosing your topcoat color. because it will pop through. This also applies to the original wood color as well.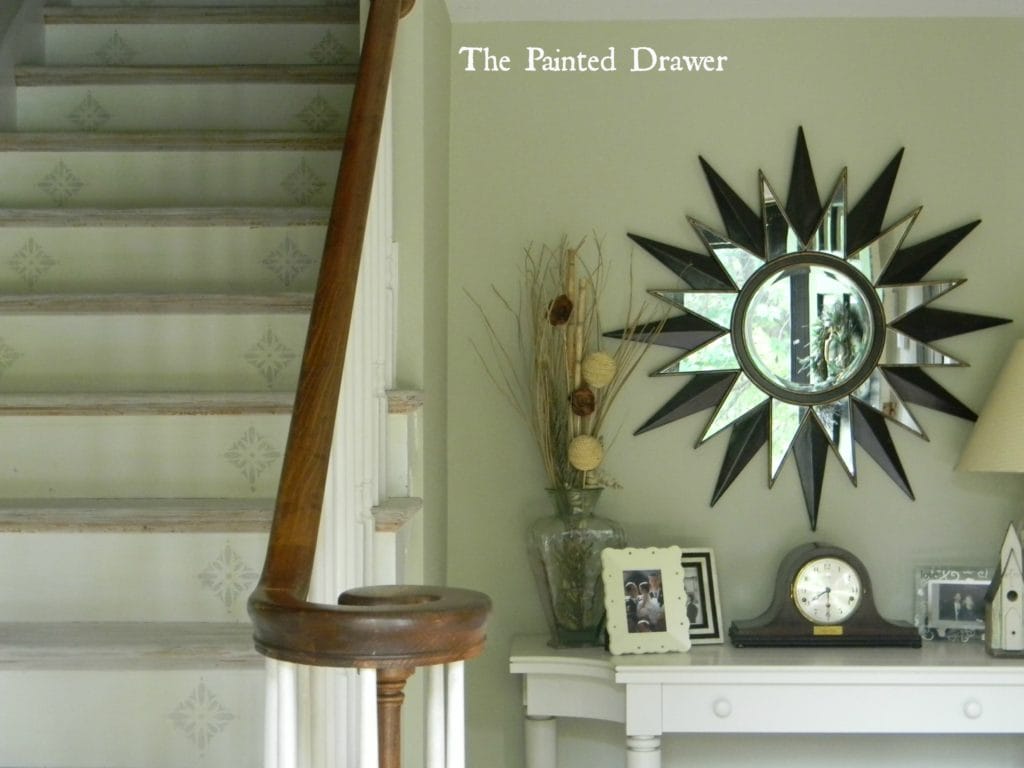 (Regarding the wash I applied on my stairs) … "I was also wondering if you sealed the treads. I have pine treads that are the same color as our oak hardwoods and they blend together-in a boring way. I may try your idea. Thanks!"  Shari
I did not seal the treads. I'm afraid that the waxing would make them slippery which is not a good idea on stairs! I also love the look of the wash fading through use and time. If I feel it is becoming too faded, I can always quickly add another wash!
(Regarding the wash I applied on my brick hearth) …"I love it! You said you made a wash, did you paint it on & wipe it off real fast?Or.. what did ya do?"  Jesse
I actually get many questions on the ratio of water/paint for washes. Time to admit – I am absolutely not the person to ever measure and make an exact formula. I just go with what I have and tweak it as necessary. For washes, take a paint brush and saturate the bristles in water. Then dip it from your water bowl to paint tin and apply. As you go, either add more water to dilute the color or add more paint to thicken it. Take your rag and blot it off as you go to create your look or leave it to dry "as is'.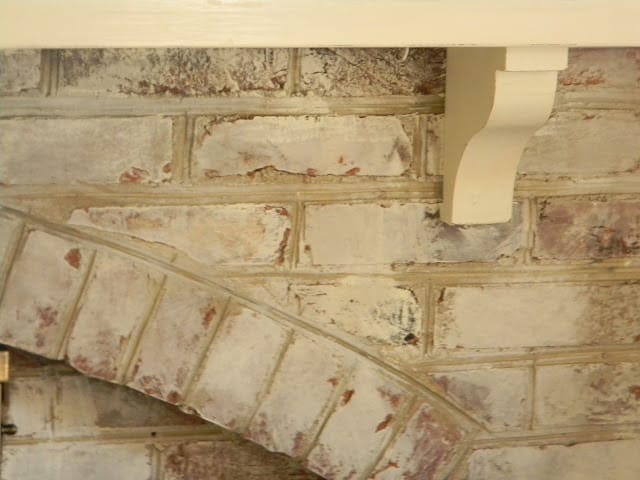 "This secretary turned out beautifully. How do you paint the interior, by hand or with a sprayer? Also, do you wax the interior? I have a lovely secretary on Queen Anne legs, but haven't figured out how I'd paint the inside. I don't have a sprayer, but am concerned it would look messy if I paint it with a brush."  Robin
I never use a sprayer on my pieces. I just dig in there with a good brush and get to the inside and crevices. Just take a deep breath and go for it! Also, with a sprayer, I would be afraid of drips and uneven paint application.
"Question: with all the grooves and crevices on the vanity, did you have to sand in those gaps? How did you do that? I am currently re-doing a bookcase with "fluted" sides and having a frustrating time sanding between those 3/16 of an inch crevices! Tried a homemade 'cuticle stick sander", some sandpaper wrapped around a paint stir stick, and even folding up some sandpaper to fit. Not very successful 🙁  Any more effective secrets or suggestions out there?"  Mary
I only sand a piece down prior to painting with ASChalk Paint if there are deep scratches or dings that I want to smooth out before applying the paint.  No, I don't sand between the crevices prior to painting. I do love to sand them down after painting to make them pop with a good distress job. You can always fold a piece of sandpaper and use the crease to get in there and distress away!
"I actually had a question about one of your YouTube videos where you show how you sand chalk paint to get the super smooth finish using 600 grit sandpaper. I want to try this on a piece of mine but I do not want to do any distressing. My problem is that no matter how light a hand I have or how fine the sandpaper, it seems to scratch the surface slightly …on the paint."  Tina
I always sand my pieces after applying each coat of paint.  I use either the 600 grit or, preferably, a super fine sanding sponge.  This creates a smooth finish for waxing.  However, it will definitely take some paint off (which is what I am trying to achieve) and no matter how hard you sand, it is pretty impossible to get a flawless, no marks at all, finish.  This is why AS Chalk Paint is great for the vintage, farmhouse look.  If you are trying to create a super smooth, flawless, more modern look, I would recommend going for a latex paint, apply with a sponge roller and then poly.
"I am having trouble with applying wax and buffing with a lint free cloth – it seems to leave tiny fibers in the wax (which is why I want to sand first because it's almost as if the texture is too rough). I've used old t-shirts and even bought lint free rags and both were leaving the fibers in the wax. I have no clue how to avoid this without scrapping the whole wax idea and going straight to some kind of poly. Any ideas?"  Tina
When applying wax, remember – a little goes a really long way.  If you apply too much, it will goop up and any lint or fibers will adhere to it.
"I just saw the piece you have on etsy (it's beautiful!). I am about to do my kitchen table the same way …. cream colored base but want to leave the top walnut. It's in bad shape though. I just wondered how you did the stain on your piece. Did you strip it, etc.?"  Darla
No, I never strip furniture.  I find a good 60 grit sandpaper will take most finishes off with some elbow grease and then I work my way to a higher grit prior to staining.
---
I hope this helped with any projects you all may have planned!
Join the Fun! I Always Love More Subscribers!