Welcome to Tell Us Tuesday!  Each week, I'll have a guest artist answer a few questions and wow, I have a fantastic lineup for you!  I hope that by hearing from such a diverse pool of creative people, we will take away interesting and different perspectives.  This may help in your own endeavors, be it painting furniture for fun, working on your home and creating your own style, or starting a blog or business for profit.  The questions range from the artistic to running a successful creative business.
I consider all of the participants to be my true friends.  We may not have met face to face (yet) but I know that we all support and inspire each other.
This week we have the talented Susan from Saw Nail and Paint!  Her site is chock-a-bloc full of inspiring before and after makeovers.  Her bold color choices and perfect staging really draws you in.  Simple and stunning!  I am a big fan of Susan's work and am looking forward to sharing Susan's perspective with you today!
Interspersed in the questions are pictures of Susan's amazing work.  Click on the picture for a link back to her original blog post.  Links also at end of post.
When did you begin to paint furniture and/or create projects for the home?
About 20 years ago, my husband and I were furnishing our first apartment together, and we were on a very tight budget.   I found a small vintage dresser at a second hand shop in the Pike Place Market in Seattle where I live.  The little dresser was covered in peeling yellow paint and had seen better days.  I stripped off all the old paint and refreshed it with new white paint and crystal knobs.  I still have that dresser today. It's not a valuable or rare piece, and my furniture painting skills have definitely improved since then, but I keep it for sentimental reasons and to remind myself of how far I have come.  
When and how did you start your website/blog?
I started my blog in October of 2014 as a way to document and share my DIY projects.   After working for many years in a high stress job as a medical malpractice attorney, I decided to leave my job and stay home with my kids.  That allowed me the flexibility and time to pursue creative passions like painting and refinishing furniture.
Having little technology experience, the process of starting a blog was daunting for me.  I had actually been thinking about starting a blog for quite some time, but my insecurities prevented me from taking the leap.  I have perfectionist tendencies and I knew my blog wasn't going to be perfect at the outset, or even close to perfect – it might even be terrible.  Those thoughts were hard for me to overcome, but I finally decided to just go for it.  I started out with a free WordPress site that was fairly easy to set up and a good place for me to get my feet wet.  While I still have a lot to learn, I have come a long way since then and I have improved so much simply through the process of "doing."
What would you consider to be your unique style and what inspires you?
My personal style is a combination of many things.  I have always been fascinated by, and appreciated, vintage pieces.  So, that definitely plays a big part in defining my style.  I would describe my style as an eclectic mix of coastal, cottage, with a touch of farmhouse and French. 
I am so inspired by the amazing community of other talented artists and furniture painters.  I'm pretty much addicted to Pinterest (aren't we all?) but I also go old school with my longstanding magazine addiction as a source of inspiration.
How do you choose which type of paint or finish to use on a piece?
Deciding on a particular paint or technique really depends on many factors.  The style of the piece, the condition, the aesthetic I am trying to achieve, among others.   For example, if the wood or veneer is in poor condition, paint may be the best option for that particular piece.  On the contrary, if the wood is particularly beautiful, I will refinish all or part of it.  If I am trying to achieve a farmhouse or cottage look, I often use milk paint which can give a timeworn and weathered appearance.  For mid-century pieces, I opt for a more uniform sprayed finish.
Do you consider both writing your blog and working on a project to each be a creative process?  Which do you prefer?
Definitely!  Painting and restoring furniture pieces is absolutely a creative process for me. Seeing the potential in a cast off piece of furniture, imagining what it could be, and then actually transforming it into something lovely and useful is particularly gratifying.  But I also find the process of writing to be creative as well.  As an attorney, I spent a great deal of my career writing – but legal writing is very different from writing a blog (you will never hear me say "hereinafter" on my blog!), and it took me some time to find my personal voice again. When I am writing for my blog, I enjoy "speaking" to my readers and sharing who I am.  Another aspect of blogging that I find to be exceptionally creative is staging and photographing my furniture pieces.  In fact, it's one of my favorite parts of what I do.  
What is your favorite part of the creative process?  The initial brainstorming/inspiration, working on the piece, the finishing touches (staging/photography) or writing and publishing the blog post?  Least favorite?
One of my favorite parts of the creative process is finding a furniture piece and imaging what it could be.  Looking at the ugly duckling and envisioning the swan.  Sometimes I have an immediate vision for a piece and see that vision through to the end.  More often though, I find a piece and my vision changes many times over the course of refinishing it.   As I said above, I also love the process of staging and photographing a finished piece.  This is the area where I feel my skills have shown the most improvement.  I think it is critical to show each piece of furniture I refinish in the best possible way.  This is where good staging and photography make a big difference.  
My least favorite part of the process of refinishing furniture is selling my pieces.  I tend to get emotionally attached and have a hard time letting them go.  I have said so many times, "I think I'm going to keep this one" when I finish a piece, to which my husband just sighs.  I can't keep them all of course, and it does help knowing they go to great homes where they will be used and loved.
What do you believe to be the reason for the success of your blog and business?
That's a good question!  I consider my blog and business to be successful because I feel fulfilled.  I don't define my success by external factors such as the number of pieces I sell or the number of page views my blog receives.  I genuinely love what I do, and at the end of the day, that is matters to me.
What advice do you give other creative people wishing to follow in your footsteps?
Just go for it!  Really, don't feel held back by a lack of experience or feeling that you are not as good as others.  Celebrate where you are now, work hard, and you can reach your goals.  It does take time, but take the first step, allow yourself to not be perfect, and you will get there.
 Link Backs:
Vintage Dresser Makeover in Casement
Serpentine Dresser with Vintage Inspired Key Pulls
Indigo Blue Mid-Century Modern Buffet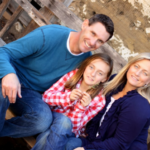 Up next week, Darrielle from DD's Cottage and Design!  I cannot wait share her work and hear her story.  I am very honored that so many of my amazing blogging friends have agreed to take part in Tell Us Tuesday!
[otw-bm-list id="2″]