As a homeowner, it is essential to plan your home remodeling carefully. Every house has different layers of patterns, designs, and tendencies that may tell you about the previous resident. When you remodel a property, you may have to strip away any aspect that defines them and introduce your designs to make the home your own.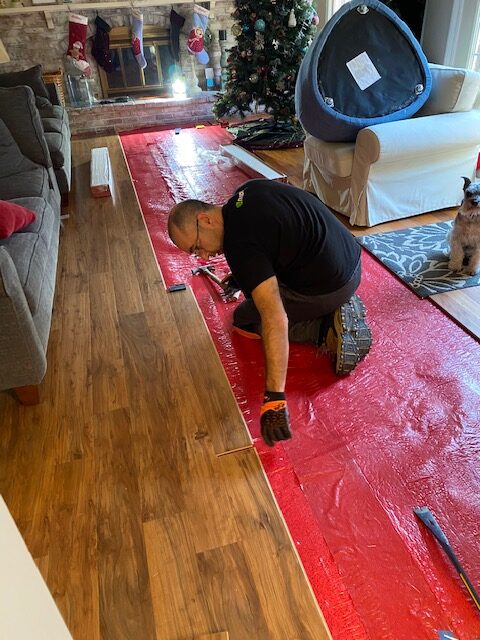 We've encountered this lately in our home. You can read how we installed our Pergo flooring here. In our house, half the house is built on a slab and so it slightly higher – causing a huge headache when trying to install flooring!
Image via Adobe Stock by Angelov
There is a lot more to renovating a house than just throwing out some art, bad décor, and replacing it with whatever comes to mind. You need to have enough patience, great foresight, willingness to make any changes, and very keen attention to details if you want to go through the remodeling process without losing your mind.
While some homeowners may conduct a renovation to put up the residence on sale, it does not necessarily increase in value even after doing enough sprucing. It is common for upgrades to occasionally not pay for themselves.
When you set your eyes on renovating your home, you can easily get lost in trying to choose the right colors, decor, and appliances. You need to ask yourself, what is most important and try to deliver a favorable solution.
Here are some tips you can use when remodeling your home.
Create a budget for your renovation
You need to have a budget that determines what you can have and what you cannot. Do not stick to a ballpark figure. Instead, detail precisely how much you are willing to spend. A budget will help keep your expectations in order.
Purchase all your requirements
Once you have a general idea of what you want and a budget to make it happen, you can visit the local hardware stores to purchase your necessities. You can try sourcing some items online in sites that offer great discounts to keep your expenditure at a bare minimum.
Hire a professional or DIY
You have two options going forward. One, you may choose to remodel your home on your own as a DIY project or hire a professional to do a thorough job. It may all depend on how much work is required and the purpose of the remodeling. If you are only changing a few areas, doing it as a DIY will give your house a personal touch.
However, if you are renovating the house to put it back to the market, a professional's touch is best suited in ensuring everything goes right.
Which upgrade adds the most value?
If your plan is to sell your home after a remodel, you need to increase the value of the house by upgrading select areas such as the overhead doors. Since they are the focal point of your home's exterior, ensure that they have a fresh look and give an excellent first impression to every passerby.
You can also focus on renovating your kitchen since it is the most likely part of your house that will increase your home value. The bathroom as well can help you recoup up to 50 percent of the renovation costs.
Now with enough knowledge of what you need to remodel a home, where do you plan to start? You can choose to create a modern kitchen and sell the house at a considerable profit.
Consider curb appeal
When you are looking to renovate your house this year, one of the considerations you should make is the curb appeal. When you look to sell your home in the future it is important for you to think of how it will look from the street as a first impression. One of the features of your house which may need a revamp is the garage. If your garage has never really been touched; now is the time to invest in Garage Door Services & Repairs and a new paint job to spruce it up. Make sure that your home looks both welcoming and homely from the street.
What's the minimum you can do?
When looking to renovate and remodel your home, it may be tempting to go the whole hog immediately and spend all of your savings on the project. However; there is always a minimum amount of work that can be completed to still add value to your home. For example; rather than spending money on wallpaper, you may be able to simply paint straight onto the plaster. Instead of retiring the bathroom, consider simply freshening the grout work. There are plenty of smaller ways to impact your home without spending time and money on the job.
Completing a remodeling project in your home can be a stressful affair and there are plenty of obstacles you may face along the way. But this year take these simple steps into consideration and make your renovation as stress free as you can. 
Please note that some of the links above and below are affiliate links, and at no additional cost to you. All opinions are my own.