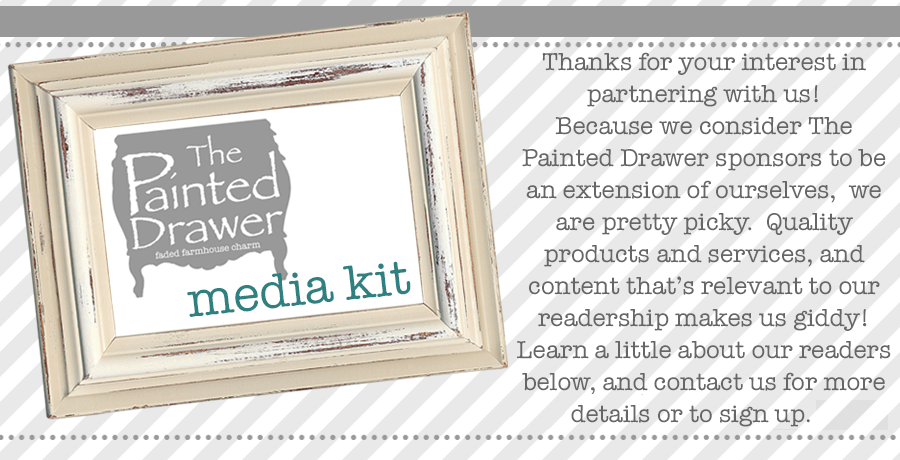 About our advertising:
The Painted Drawer is a small business specializing in unique vintage furniture with a European farmhouse feel.  The blog and online shop offer beautiful furnishings for sale, design tips and refinishing techniques and tutorials to aide others in creating a warm, eclectic look for today's modern home.  The Painted Drawer's sponsors are a reflection of this.  Learn more about our readership below, and please contact The Painted Drawer at painteddrawer@gmail.com for details.

What others are saying:


Our Readers comprise those with an interest in:
Interior Design with European Farmhouse flair/ Vintage Style Home Décor/ Annie Sloan Chalk Paint and Refinishing Techniques/ General Finishes Milk Paint and Stain Techniques/ DIY Enthusiasts/ Repurposing and Recycling Décor

Current Stats:
70,000 + page views per month of blog, 8,000 followers via Facebook, 730,000 + YouTube views and a bustling viewership on Pinterest and Instagram.

Advertising Offerings:
Each sponsor receives an ad/link back button to be placed on The Painted Drawer's sidebar – packaging and rates outlined.
Each sponsorship spot comes with a personalized blog post tailored to the sponsor's image and products.  This can include a product review or giveaway.
Promotion of product via Facebook (7,500 followers), Twitter and Google+

Rates:
150px square ad button $20 per month
300px square ad button  $25 per month