There are lots of ways in which cold air can get into our homes. By finding the points of entry and sealing them up, you can keep out this cold air and allow your home to stay warmer longer. Below are just some of the most common sources of cold drafts.
Windows
Most cold drafts enter via windows. By running your hand across each window, you should be able to determine if cold air is getting in. You should start by checking that all the windows are closed and locked – even the slightest gap could be enough to let in a chilly gust of wind. If windows are shut and locked and cold air is still getting through, it could be because the frame or seals are worn. There may even be cracks around the window sill letting in cold air (you may be able to fill these with caulk). Old single-glazed windows are most likely to leak in cold air – it could be worth investing in new windows if you're getting serious drafts coming in.
Doors
Drafts can also commonly enter via the gaps around doors. Most modern doors are well insulated and have seals that prevent these drafts getting in, however an older door may have slight gaps that allow wind in. Draft excluders can be placed below doors to prevent drafts coming from underneath the door. You can meanwhile buy weatherstrips for the gaps between the door and the frame. Make sure to also look for cracks in the frame itself (these may be able to be sealed up with caulk). A new door may be necessary if your current one is old and damaged. 
We just had new flooring installed in our foyer. It is the same Pergo flooring that we installed in our hall, bathroom, family room and kitchen. Now that the floor is in and looks fantastic, we need to concentrate on our front doors. We have double doors and I would like to replace them with new wood doors. I am thinking of Home Depot – does anyone have experience with using them for doors? I would love to hear your reviews!
Our old floors were wood but full of holes from a subfloor that had been installed decades ago and badly stained. We tried refinishing them but this was the best we could get them (below).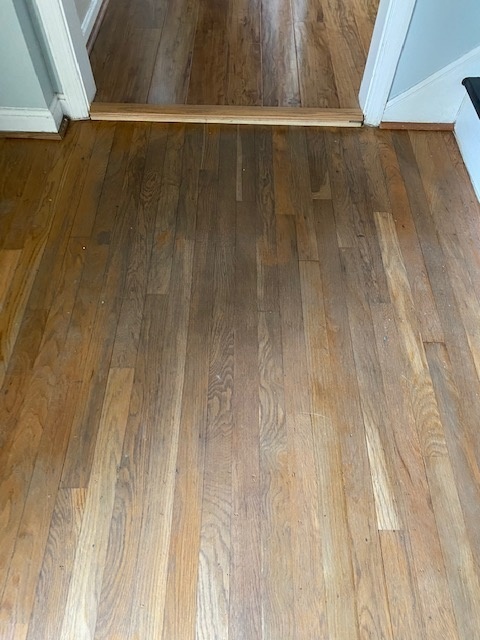 Here are the new floors – Pergo Applewood – being installed. I will share more pics soon. I also repainted our stairs to a brighter look and am very pleased with the result!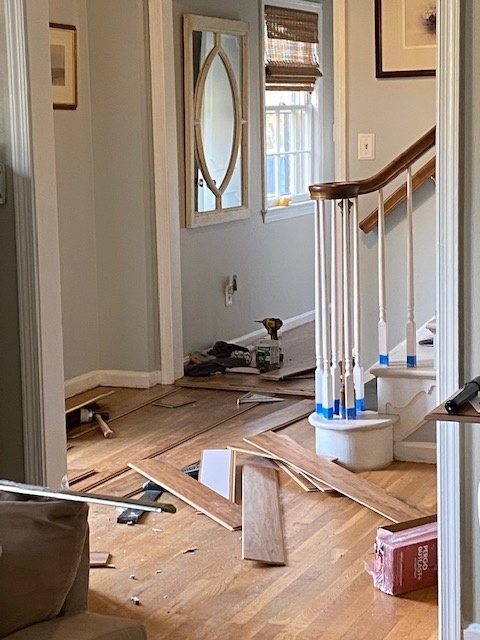 Attics
It's possible that drafts could be entering through the attic of your home. If you've got an old roof, there could be missing tiles or cracks letting in cold air – investing in roof repair could help to keep out the drafts. If you don't use the attic for anything other than storage, you may simply be able to seal up the entrance to the attic with a door that stops the air getting into the rest of the house.
Chimneys
If your home has a chimney, this could be a major source of cold drafts. If you don't use your chimney, consider paying to get it sealed up. Alternatively, if you do sometimes like to use your fireplaces, consider whether it's worth buying a temporary chimney cover that you can put on when not in use.
Walls
Sometimes drafts of cold air can travel through the walls. These types of drafts can be hard to locate – they may come in through a crack in the exterior, circulate around the wall cavity and come out of a crack in the interior wall. In some cases, cold air may even leak through an electrical socket. Cavity wall insulation can prevent these types of drafts (although faulty insulation can sometimes be to blame). Make sure to also seal up any noticeable cracks and holes in your walls – you may be able to use caulk for minor cracks, however major cracks may need to be assessed by a professional contractor.
Please note that some of the links above and below are affiliate links, and at no additional cost to you. All opinions are my own.