I am finished with the top of the farmhouse table and am thrilled with the result! It has an almost driftwood look to it, which I love. It's more interesting than the standard wood stain and it allows the original wood to show through the stain.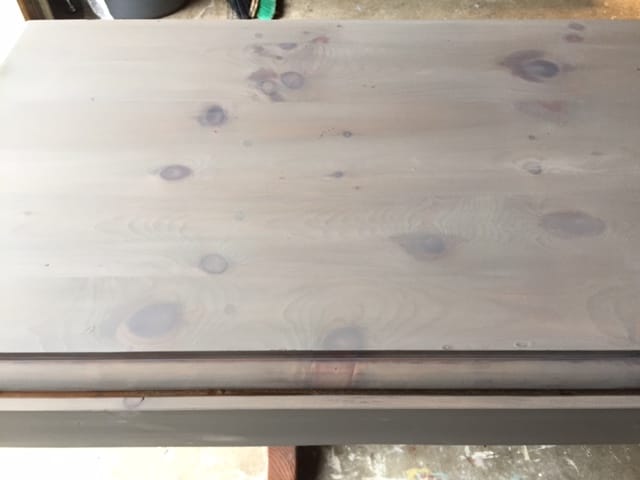 This post is how to refinish wood and, in particular, how to stain a pine table top.  Here is the process and product used.
I started out by sanding back the whole top in 60 grit. It needed this heavy grit to remove the old varnish. I then went to 100 to 150 and ended at 220. I took my leaf blower (my go-to) and blew all of the sand off the table to create a clean, dust free finish prior to staining.
The pic below is after the 60 grit.
(True story – after I sanded it back with the 60 grit and got all of the old varnish off, I was exhausted and decided to finish it the following day.  Well, our back door to the garage was left open and overnight a raccoon got inside our garage, took out some old chicken from our trash and proceeded to eat a picnic dinner sitting on top of my newly sanded table top. OMG I was so angry when I opened the garage and saw fur and chicken bones and grease on my newly sanded table!  Only me!)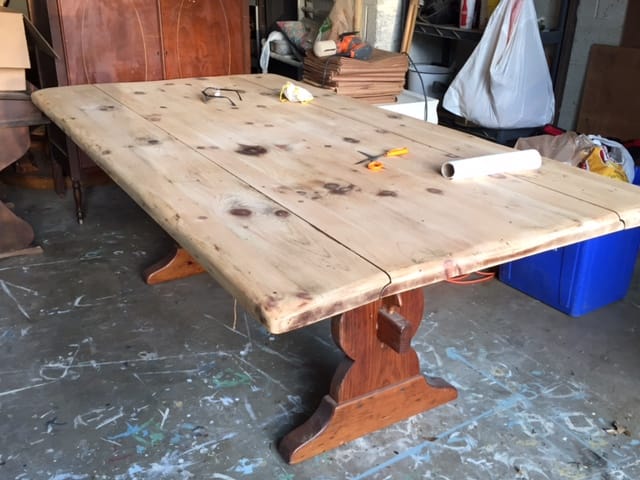 I always use my handy Rigid Power sander.  If interested, here is my video tutorial on the sander.  Apparently I was trying to channel my inner Marilyn Monroe with my bleached hair and low cut shirt.
Pine is a soft wood and is really difficult to stain without getting a splotchy finish. One way to help this is to apply a Pre-Stain wood conditioner. The one I use is Minwax.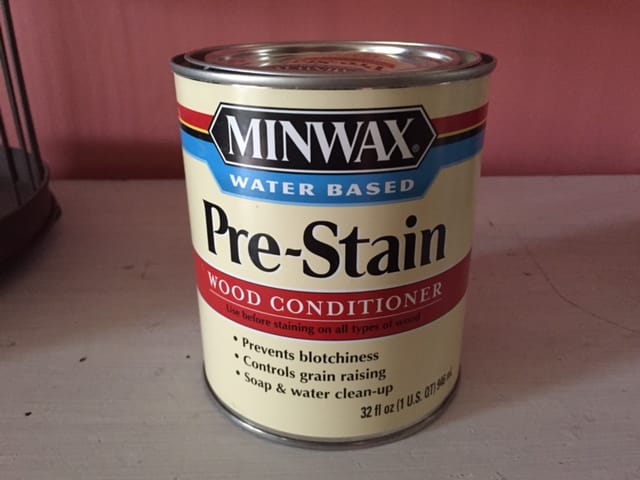 The pre-stain is easily applied with a sponge brush. The can says to let it dry for 15 minutes and no longer than 2 hours prior to staining. Pine takes longer for the pre-stain to dry as it really soaks in. It was closer to 2 hours before it was totally dry and ready for my stain.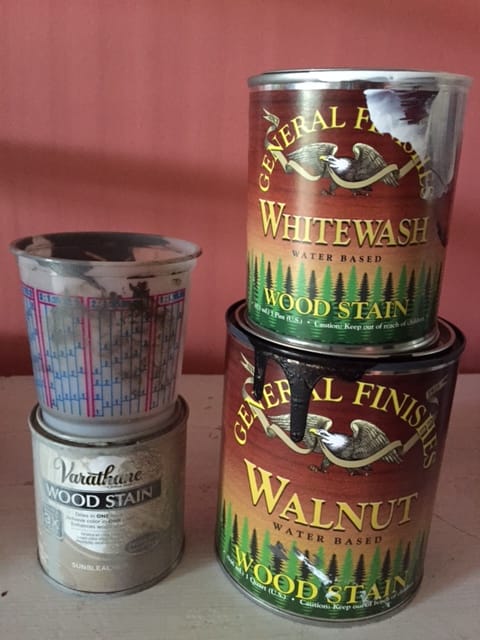 I wanted a driftwood look (like the Dear Lillie table) and went with a mixture of General Finishes water based stains. I used 3 parts Walnut to 1 part Whitewash. On the sample at the store, it looked good.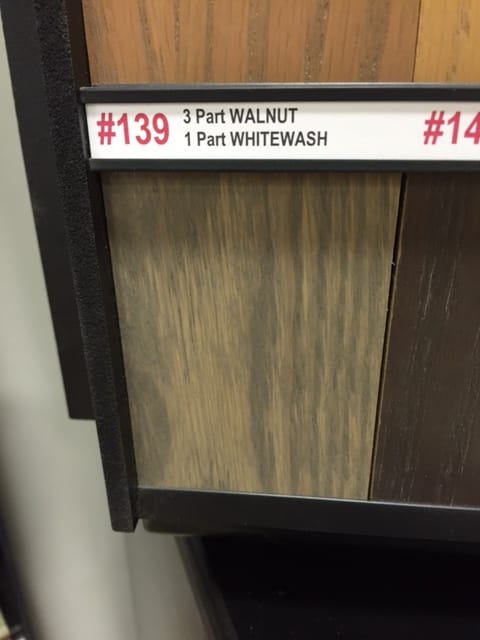 However, when I applied it to the table, I thought it was a little too dark for what I wanted. I quickly grabbed my Varathane Sunbleached stain and put it on top of the combo Walnut/Whitewash. I used a few stain pads to work it in. I love how the lighter gray peeks through!  This is an example of stay calm and work with what you have – hard to do sometimes!
I may sand it back a little to allow the wood to pop through in places but I may leave it as-is. I'll wait until after I finish the bottom and see the whole thing put together.
Back to the garage I go!