The spring outdoor market season is upon us and Luckett's is this weekend!  Wow, that year flew by!  I was a seller at the Luckett's Spring and Fall markets for three years and learned a lot.  Last year, I wrote a post on my experience and gave a few tips on being a vendor in an outdoor market.  I am sharing the post again today.  It may be helpful to those of you who are about to embark on your own spring and summer outdoor market season. If you have any tips to add, please leave them in the comments section below.  I'm sure we can all learn from each other!

First published April, 2014:
Lucketts is a huge outdoor market held every spring in Leesburg, VA.  On opening day, there is a long line of buyers waiting to walk through the gates.  Police are outside for traffic control.  Food trucks are humming and there is a band playing.  It is a very large outdoor venue with tons of vendors.  Pretty exciting!
An outdoor market is a fabulous way to meet and greet new customers. It's a chance to chat with people and showcase your best work.  This is the third year that I have participated and I am in the midst of Luckett's madness in my home!  Here are a few thoughts on what it takes to have a successful experience as an outdoor vendor…
Small Details: There are really tons of vendors at Lucketts.  This is where the small details come in.  To get your brand out there, you need to have business cards, personalized price tags for your items, bags for the smalls, and many vendors also make little giveaway treats for their customers.   I also have a large sign of my logo that I attach to my tent.  This is all really quite time consuming and are additional costs that need to be taken into account when preparing.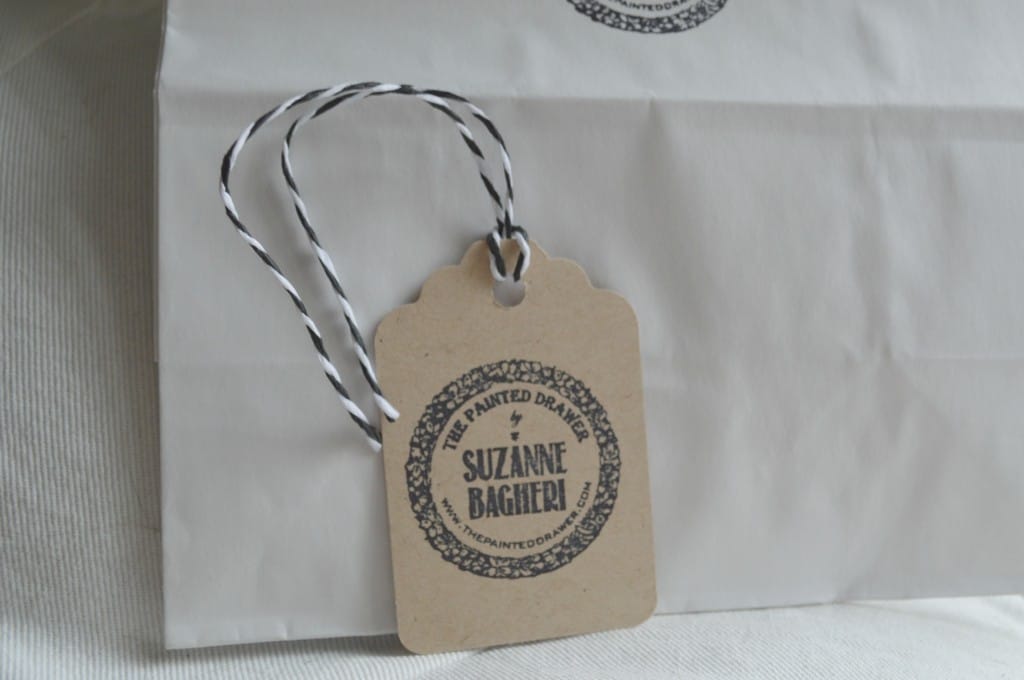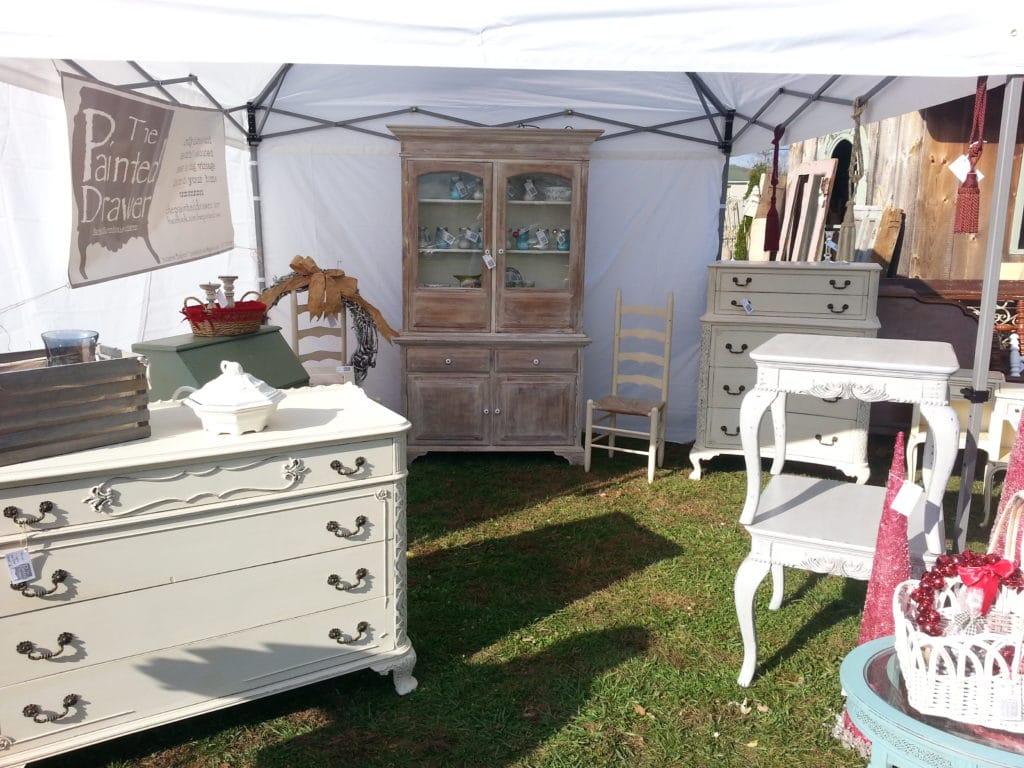 Setting Up Your Space:  It is a labor of love.  I don't have a shop or a retail space any longer so this allows me to kind of pull it all together for a brief few days.  This requires purchasing a tent for your space and working out the moving logistics.  You can either rent a truck and move the furniture yourself, or hire movers to do it for you.  This, plus the tent purchase, is a large expense that needs to be taken into account.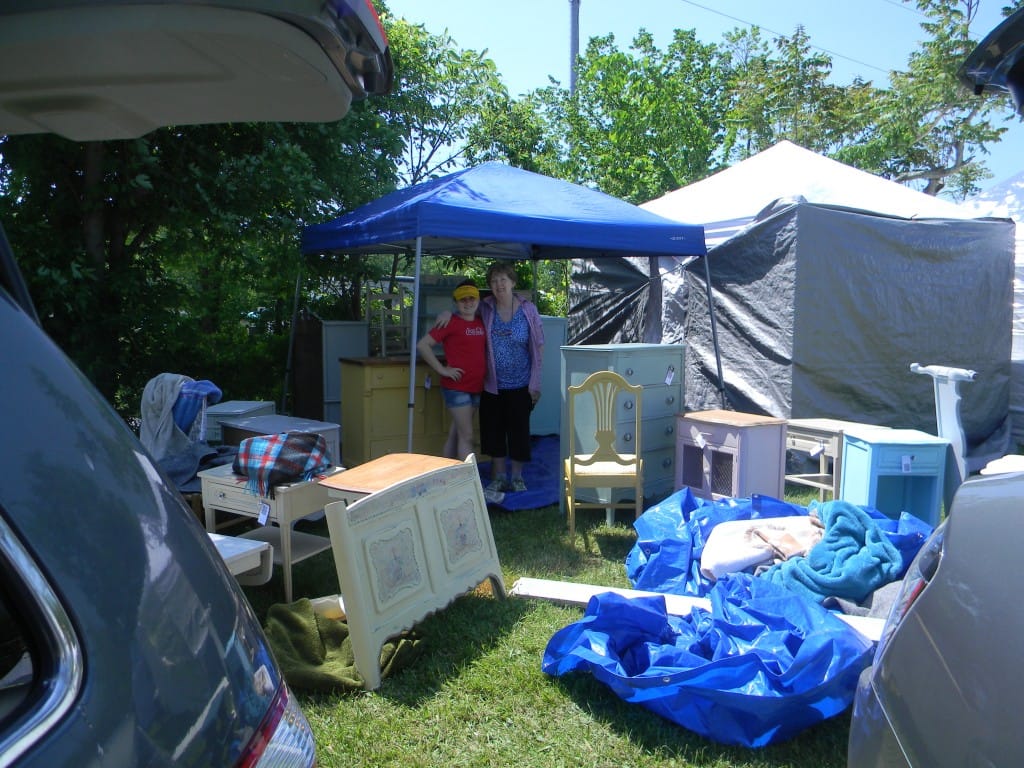 How Much Inventory: It takes a lot of planning prior on how much to take.  You need to fill your space and not over or under-do it.  Last year, I had too much and ended up with it squeezed in my tent and sprawled outside.  It looked terrible.  I'm renting two spaces this time around so I can spread out and stage it better.  Every year, no matter how well planned in advance, I am scrambling to paint like a crazy woman the week leading up.  It's always best to have too much inventory instead of too little and I'm glad to have the space this year to stage it.  It is also important to have "smalls" mixed in with your larger pieces.  You need those to stage your space and give it interest.  These take a lot of time to find and purchase, price and set up.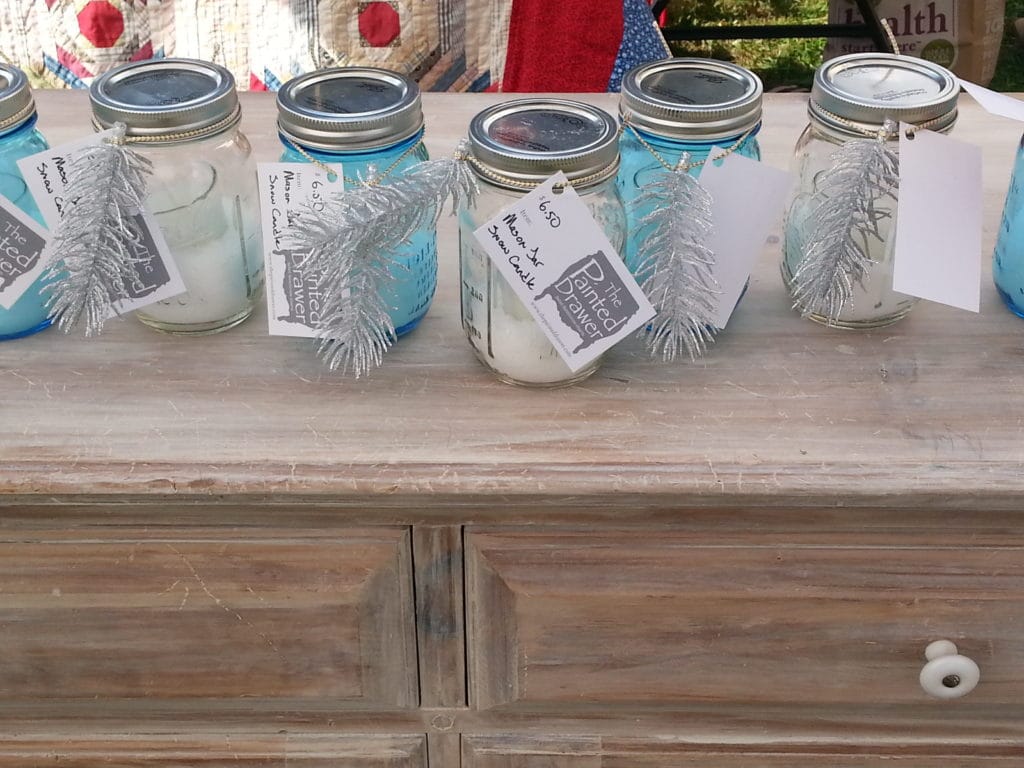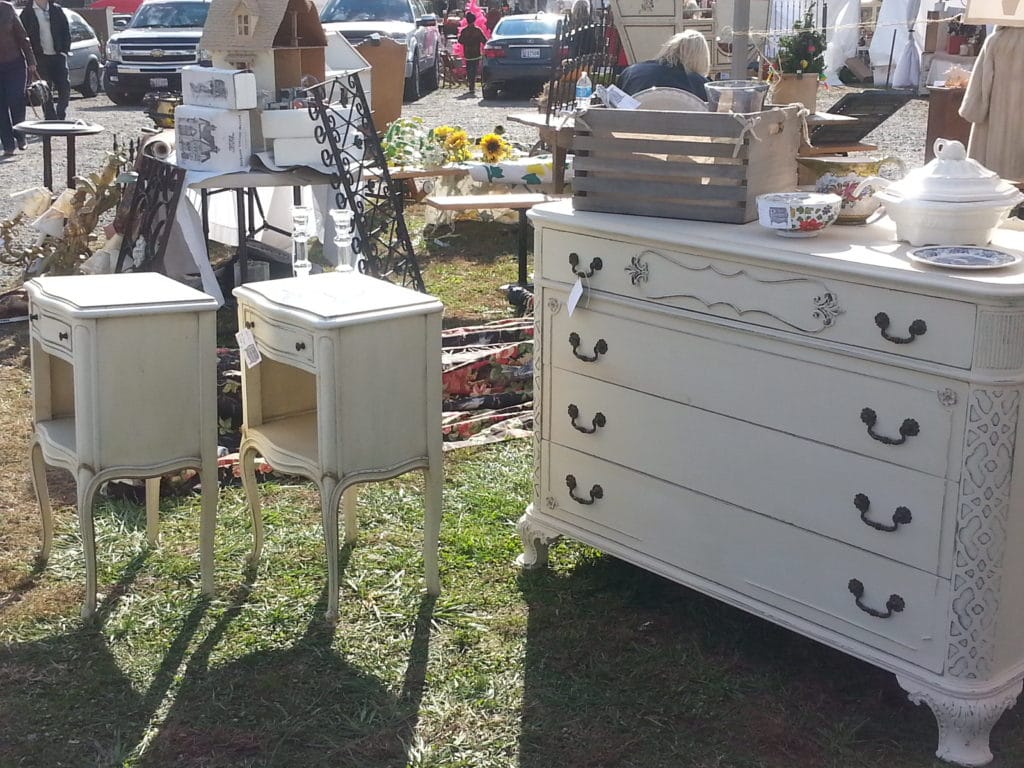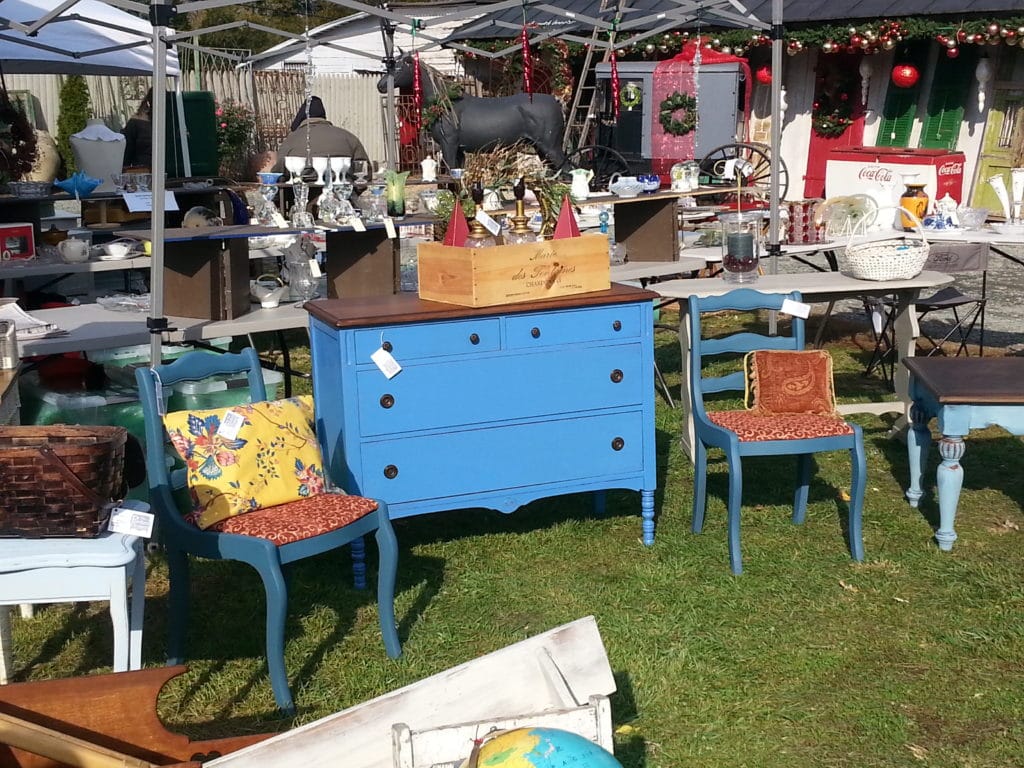 One more tip on inventory – if you sell elsewhere, say Etsy, preparing for the market will affect how much inventory you will have to list or sell on your site/store.  I am only one person and can only complete so many projects.  For the months prior to the market, all my inventory is kept at home waiting to go to the market and is not listed for sale.  This affects my monthly income prior to the sale and is something to take into consideration when running your business.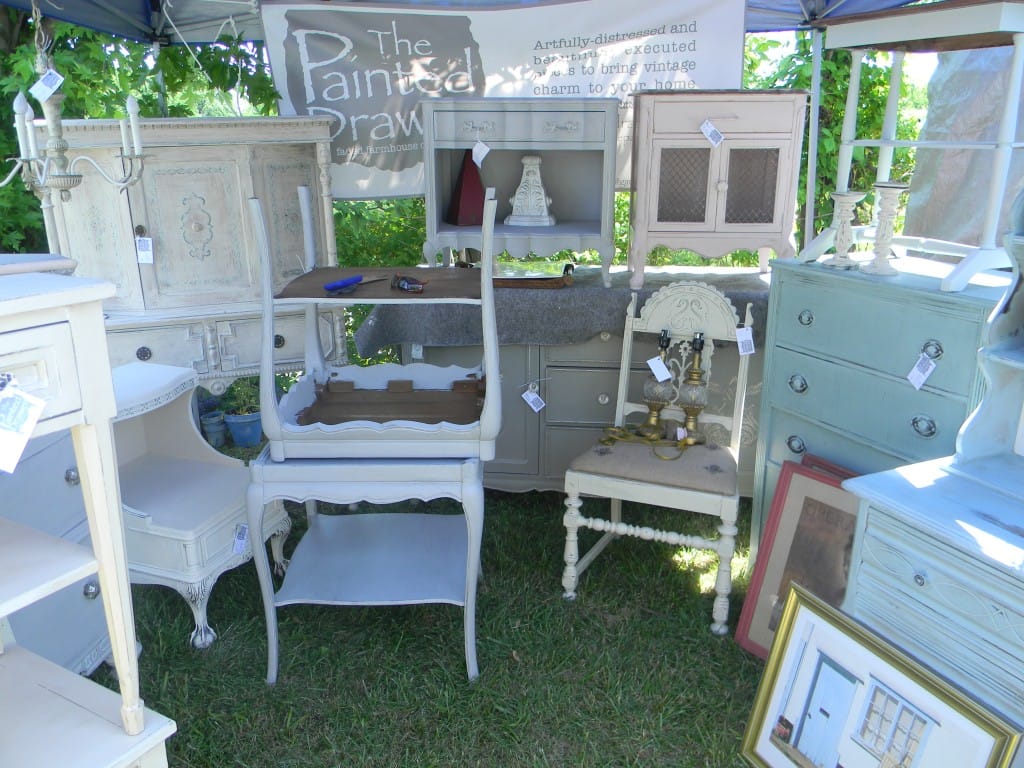 Sales: Of course, the reason you are there is to sell!  This will require a credit card reader (I use Square) in order to accept credit card payments.  It also requires change for those paying in cash.  One person always needs to be in control of the money.  It can become hectic and this needs to be planned in advance.  I have a book of my inventory and sales that my girls like to be in charge of keeping and I always have the cash in a pack around my waist.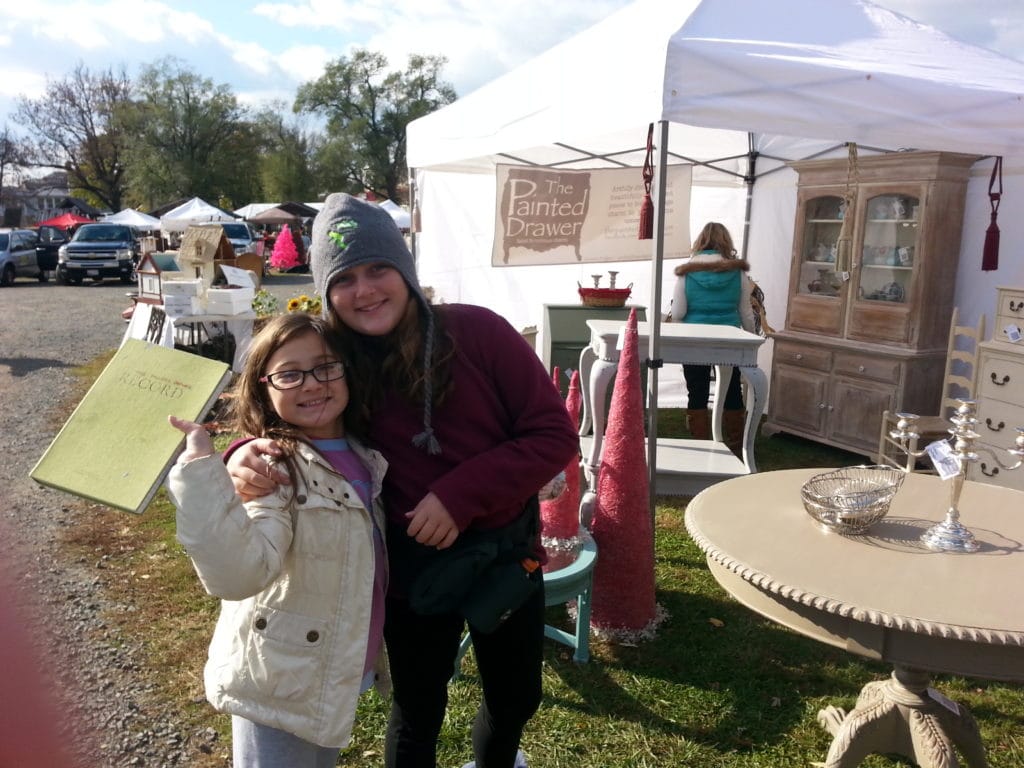 Weather: The weather is always the great unknown.  I have had very windy days (where I had to hold my china cabinet for dear life from blowing over before a kind man helped me take it apart and down) to very wet days (those are the worst).  Painted furniture and wet weather just don't mix.  You have to go with it and try your best to make it work.  Always keep your fingers crossed for sun and no wind!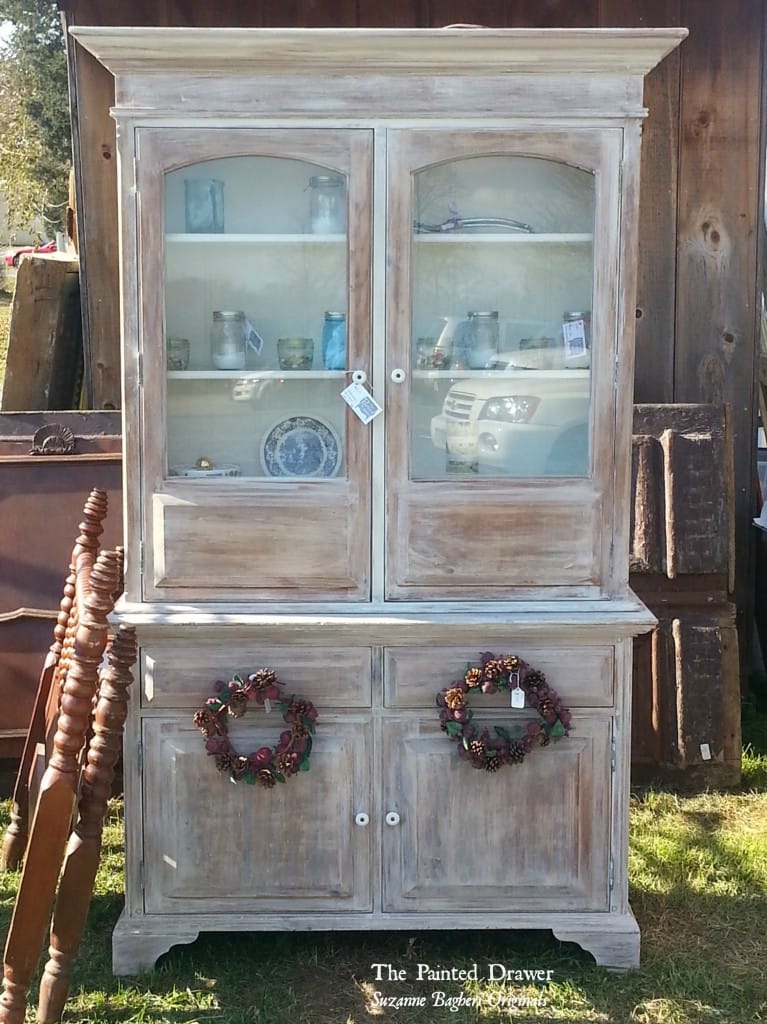 The last thing to consider but actually the most important – HELP!  I am lucky as I have my kids, husband and parents to lend a hand.  They are like a well oiled machine leading up to it – not! – but we get it done.  Pricing, tagging, moving furniture here there and everywhere around my house, selling and keeping the inventory/sales book at the market and the setting up and taking down at the end.  They do it all.  It is a family venture.
So, there you have it.  A ton of work for hopefully, a profitable and fun weekend!

This year, I am giving Lucketts a pass due to time issues and my injured shoulder.  My mother and I are taking the girls on Saturday and we shall be there as relaxed shoppers!  I am really looking forward to it!