My home is a work in progress and in a constant state of flux due to the revolving furniture in and out of my door.  And although I am always looking out for that special find to complete another home, mine is far from complete.  However, I will say that this has always been the case.  I have a strange addiction of moving furniture and painting walls.  It really is never complete before it changes again!
Right now my living room looks like this. 
My sofa is happy in its new white slipcover and I am on the search for two chairs to complement it (these were random chairs that I threw in there for now).  I think the room is looking too "cottagy" for my taste.  I love cottage but don't want a theme room.  A couple of more modern chairs and a different rug will do the trick.  Ideas, anyone?
I finished the vintage coffee table before the Luckett's fall market.  It didn't sell, so I brought it home and will try again during the spring.  In the meantime, I am enjoying it in the room.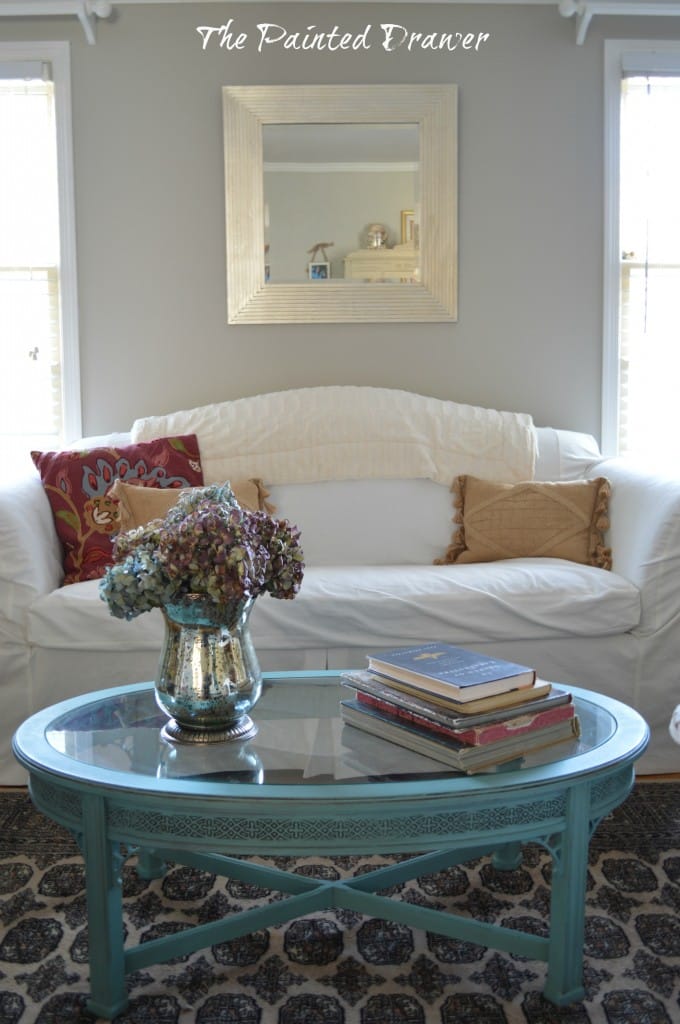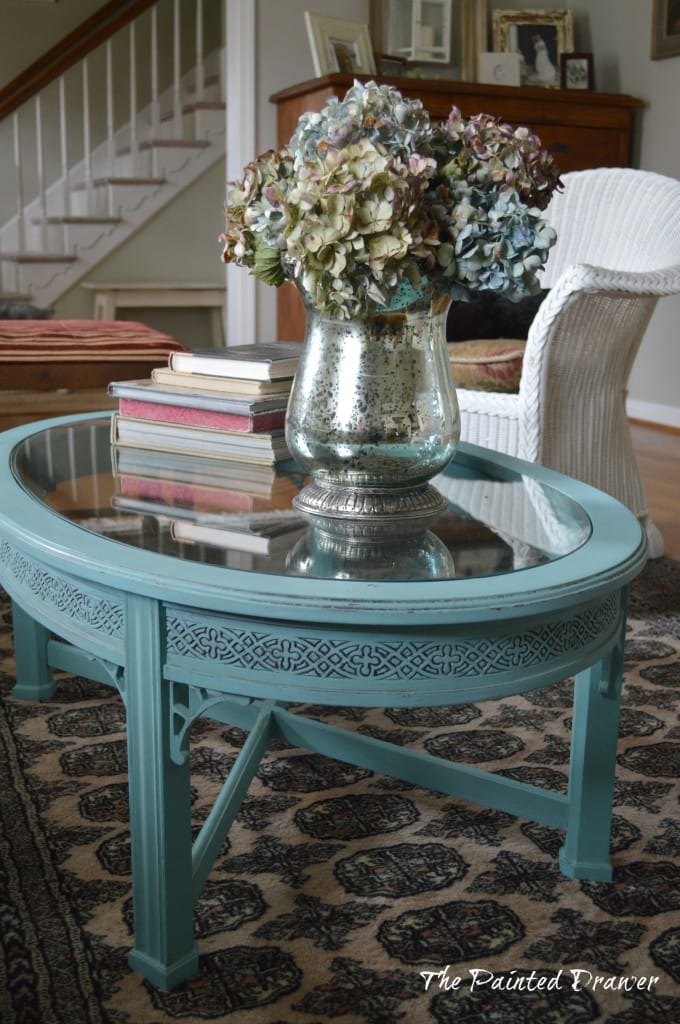 The English gateleg table on the side is not yet finished and is waiting for its second coat of white.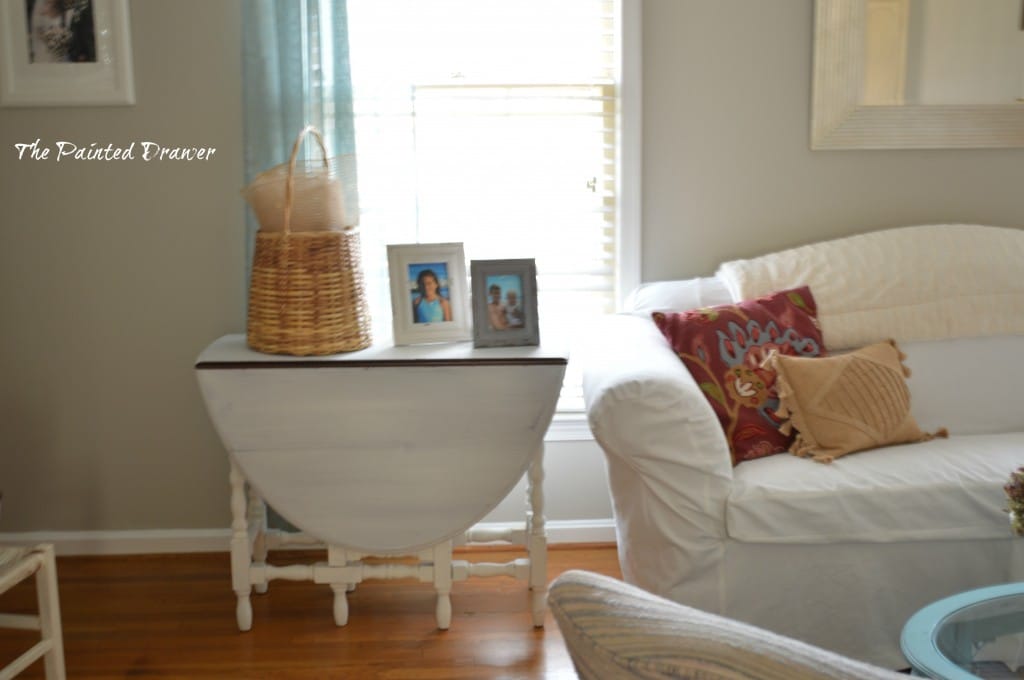 The Steamer Trunk is about to be listed on Etsy, or I may bring it to Lucketts in the spring.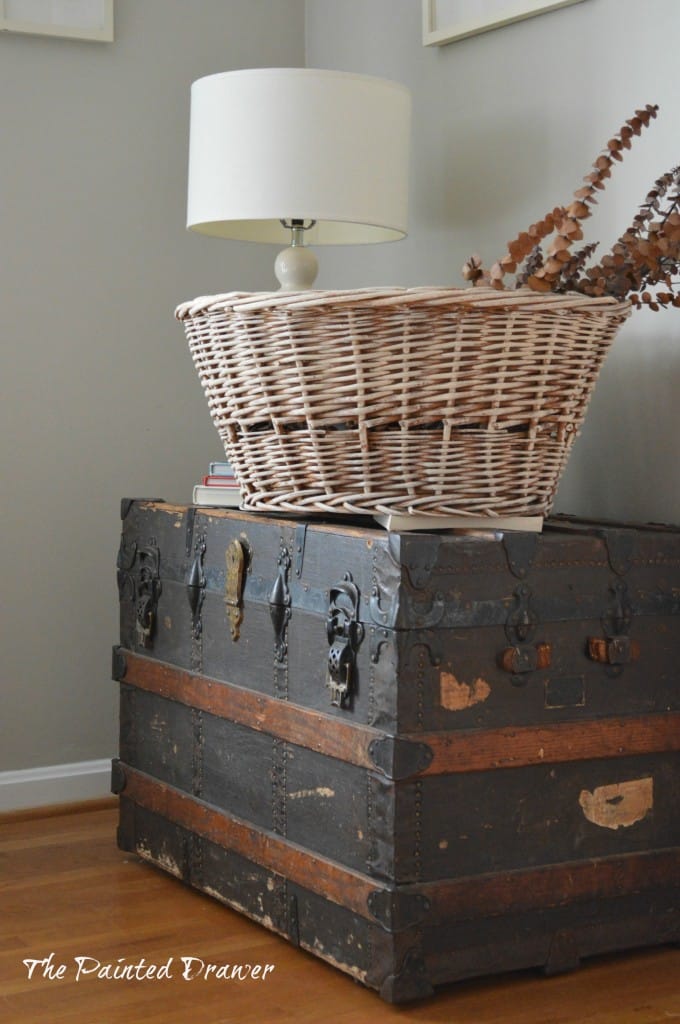 The paint on my walls is Benjamin Moore Revere Pewter – a wonderful grey without too much blue in it – and the trim and mantel a bright white.  Here is a tip – the cheapest and easiest way to update any room is to paint the trim a bright white.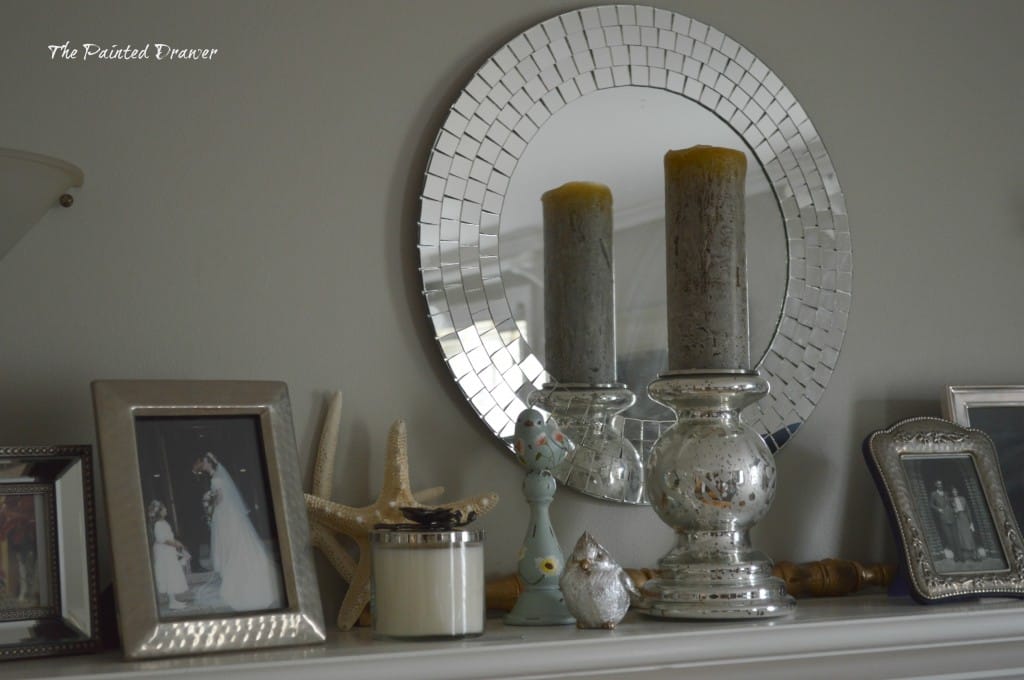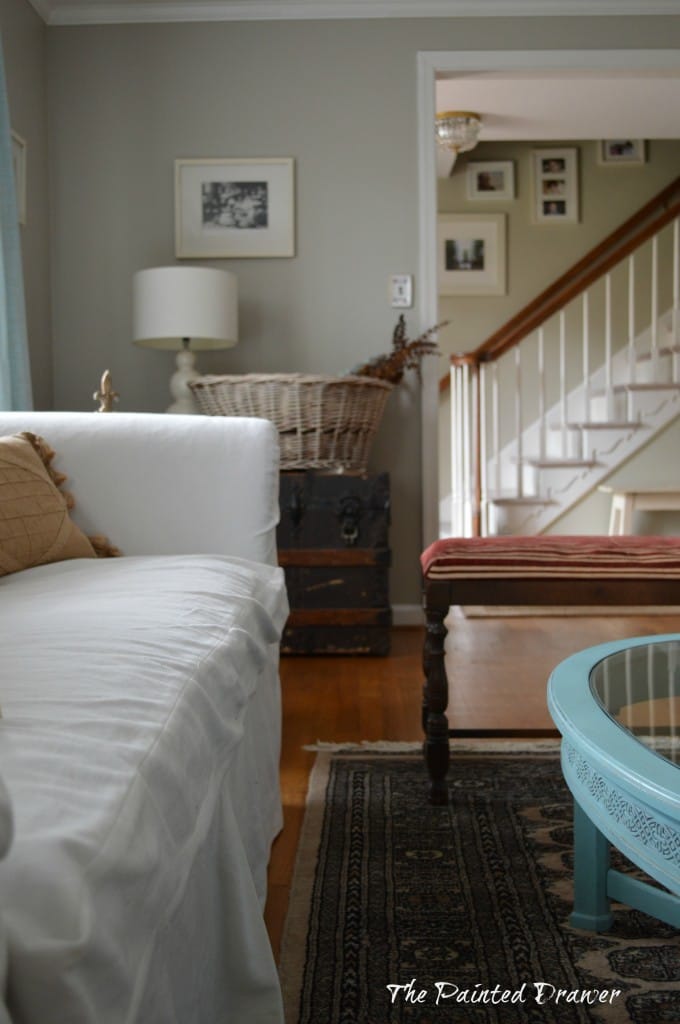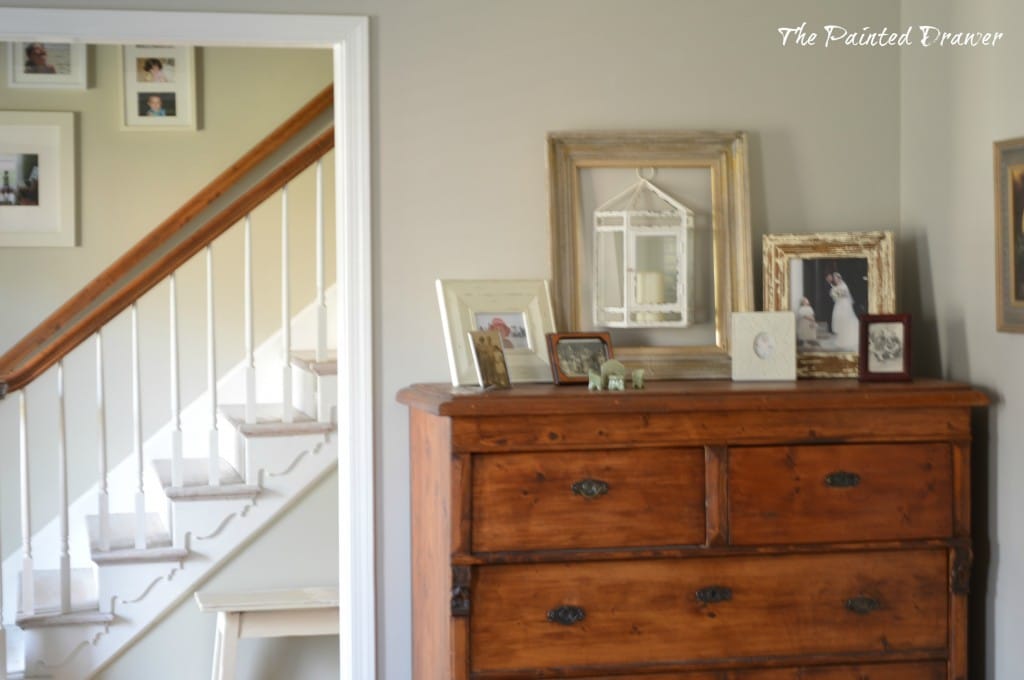 Here is my dining room. I need to finish painting my chairs white.  I painted the armchairs white last year and haven't been able to do the others yet.  I also want to add a rug, preferably a jute one, but again have yet to find one at an affordable price.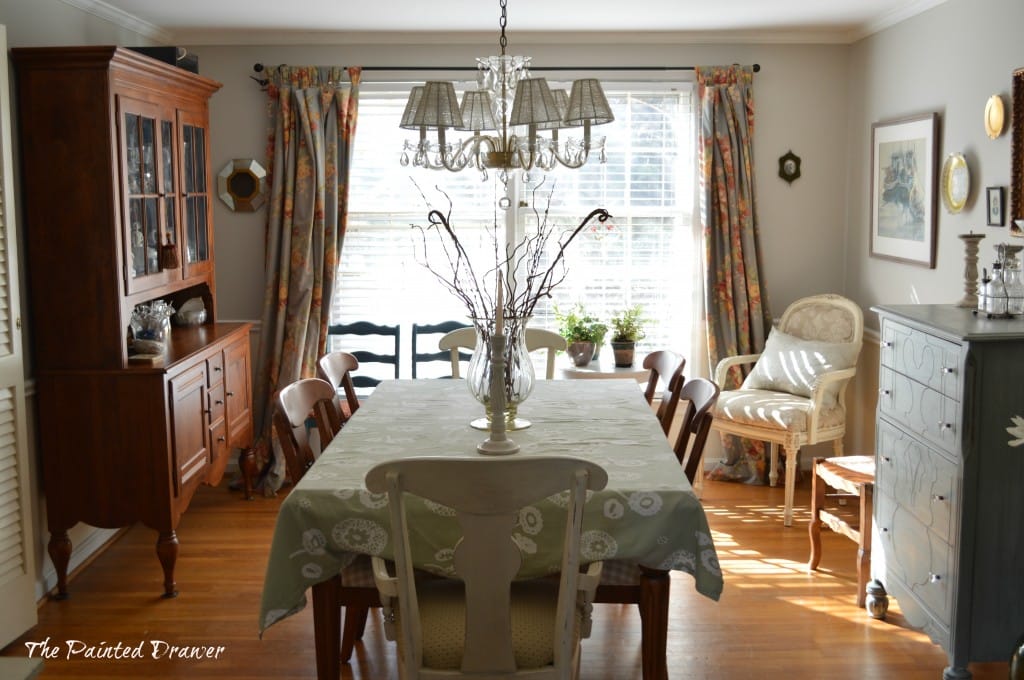 (Recognize the Farmhouse Dresser?  Revolving furniture!)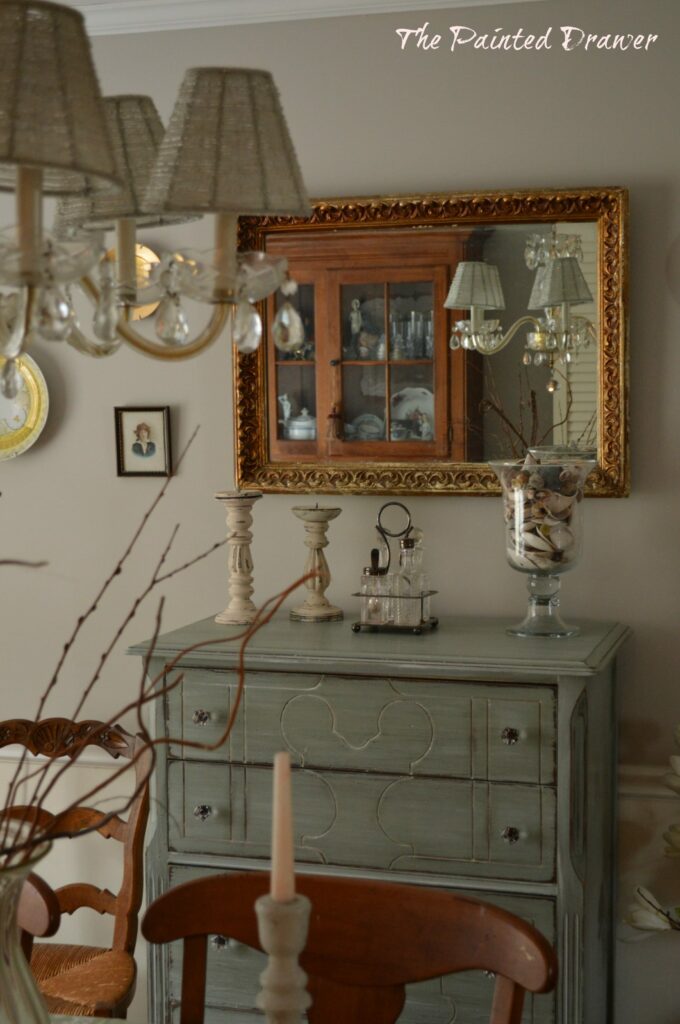 I need to move my curtains up as well.  The rod is not high enough for my liking.  It's just one of those tedious jobs that keeps getting put off 🙂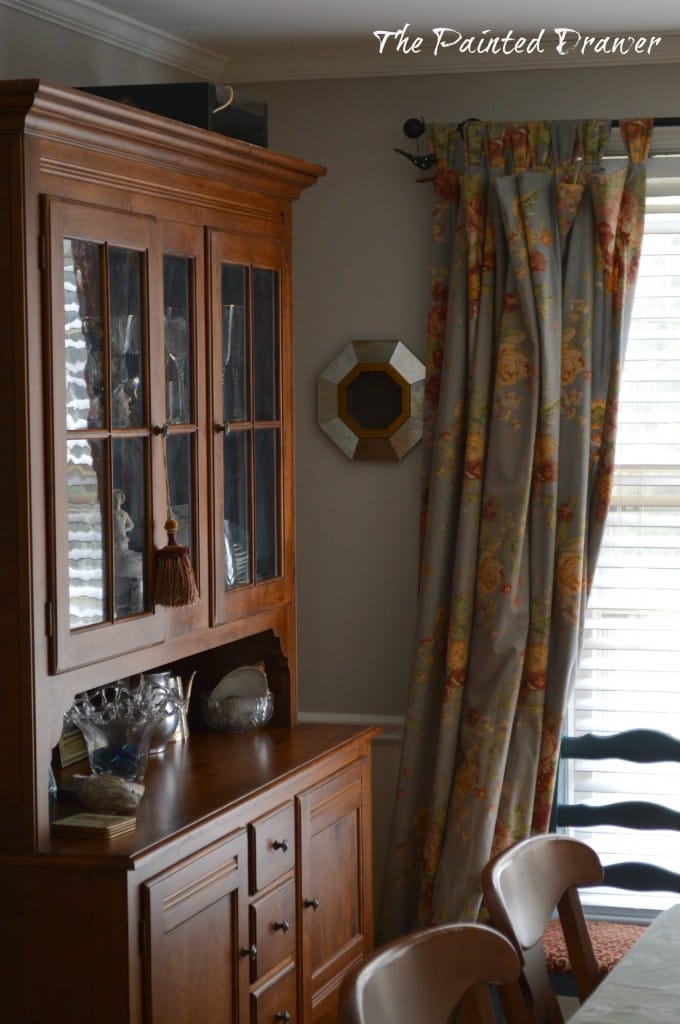 I know that every home is a work in progress.  As soon as you think you have it right, you see an idea on Pinterest to try or find a gorgeous piece to incorporate into the room.  Or, if you are like me, you change it around constantly because you just love to.  Isn't that the fun of it?
Join the Fun! I Always Love More Subscribers!